Healthy Eating: The Rule of 10s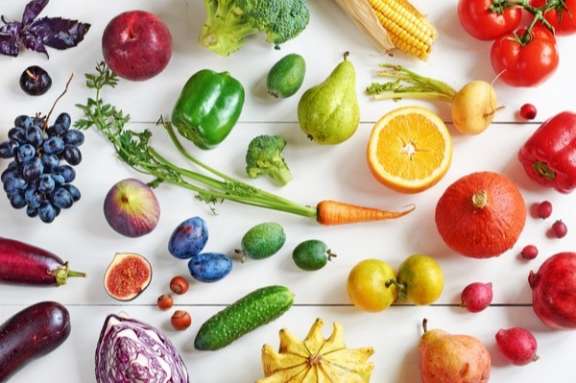 Rupa Mahadevan, MD, FAAP
Are you trying to eat healthier but have no idea where to start? Healthy eating doesn't have to be hard! The next time you are at the grocery store or planning your meals for the week, remember the Rule of 10s:

Look at total sugars in all packaged food products and make sure for one serving size, the total sugars are 10 grams or less.
10 servings of foods you should eat daily:

3 servings of fruits
3 servings of vegetables
1 serving of whole grains (brown rice, brown pasta)
1 serving of protein (beans, eggs, lean meats)
1 serving of dairy (cottage cheese/ plain Greek yogurt)
1 serving of nuts/ seeds (walnuts, flax seeds, chia seeds)
Note: A serving is the size of your fist.
10 items to keep stocked in your fridge and pantry:

3 vegetables (sweet potatoes, spinach, zucchini)
3 fruits (apples, bananas, oranges)
1 dozen eggs
1 can of beans (black eyed peas, black beans, peas)
1 whole grain (quinoa, brown rice, whole grain bread, tortillas)
1 dairy item (cheese or Greek yogurt)
Extras

Extra items that you can use to make several meals or snacks with are: peanut butter, cereal, granola bars, trail mix, avocadoes, lettuce, almond-milk, hummus, salsa, olive oil and wheat crackers.
Spices and sauces that are great to have on hand are: salt, pepper, taco seasoning, soy sauce, Italian dressing and mustard.
Here are two sample menus of meals you can make with these key items:
Breakfast: Spinach omelet with a banana
Lunch: Sweet baked potato with Greek yogurt and an apple
Snack: Greek yogurt or trail mix
Dinner: Black beans sautéed in taco seasoning with brown rice, topped with an avocado and salsa
Breakfast: Cereal with almond milk
Lunch: Egg salad with crackers and a banana
Snack: Peanut butter and apples
Dinner: Spinach wrap with grilled zucchini and hummus