The Concussion Discussion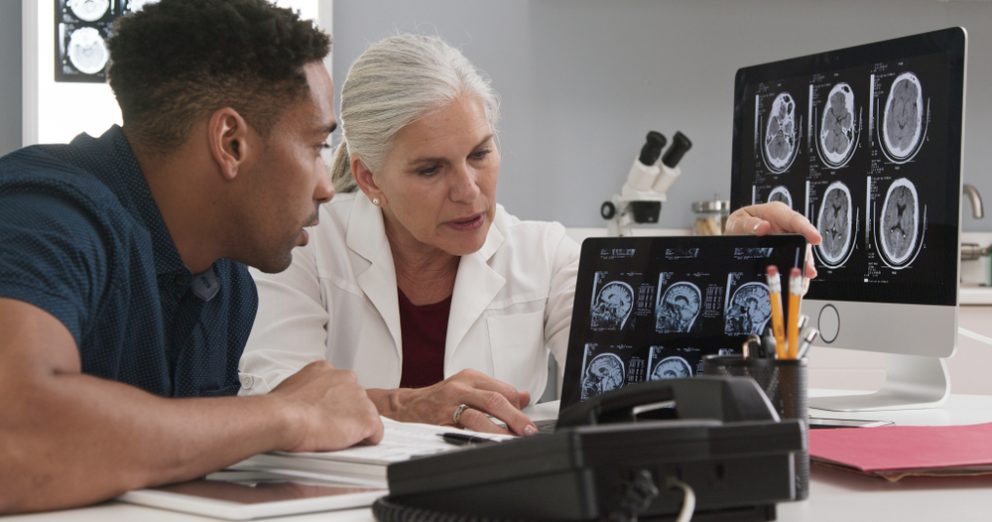 Dr. Christina Notarianni
Director of Pediatric Neurosurgery
What you need to know about Sports-Related Concussions
While it feels like the dog days of summer, fall is rapidly approaching with a return of school and youth sports. This also means a renewed dialogue of concussion and sports. It is estimated that there more than 3 million concussions each year with approximately 300,000 of these attributed to sports-related injuries.

What is a concussion?
Although many people don't realize it, concussions are considered mild traumatic brain injuries and are more serious than people may think. A concussion occurs when a person sustains a bump or blow to the head that causes the brain to move, twist, or bounce within the confines of the skull. These rapid motions cause alterations in chemicals within the brain and can damage brain cells.
What symptoms should I look for?
When these chemical alterations occur in the brain, they can present in a variety of symptoms. Common symptoms of a concussion are:
Headache
Dizziness
Confusion
Ringing in the ears
Nausea / Vomiting
Sensitivity to light and noise
It is actually uncommon to have a loss of consciousness with a concussion. In fact, only about 10% of people who sustain a concussion will have a loss of consciousness.
Other less common symptoms of concussion can include:
Depression
Difficulty sleeping
Agitation
Blurry vision
Decreased concentration
Lethargy
How do I prevent concussions in my children?
Increasing awareness of concussions in recent years has helped to promote preventative measures and research in to concussions and their management. As a pediatric neurosurgeon, one of the most common questions I am asked is, "How do I keep my child from having a concussion?" Unfortunately, there is nothing that can totally prevent anyone from EVER having a concussion. In addition, the answer is not to put your child in a protective bubble and not let him/her participate in team sports or activities. The benefits of team sports are clear in their ability to teach children self-esteem, regular exercise, leadership and communication skills, and time management, to name a few.
To help build awareness of and prevent concussions, talk to your children about concussions and explain how they can happen. No one is immune to a concussion. It can happen falling off a bike, playing soccer, or even gymnastics. Anyone who gets a hard hit to the head or hits his head on a hard object could sustain a concussion. The most important thing is to tell someone if this happens. We want to encourage children of all ages to report the event to a parent, a coach, or their teammate. Likewise, let your children know that it's a good idea to watch out for others. Friends or teammates who take a hard fall or hit may have a concussion so it is important to alert someone that this happened. Other measures athletes can take to prevent concussion include:
Wearing proper fitting equipment in good condition
Good sportsmanship
Using proper techniques for tackling or other contact maneuvers
Why is removal from play important?
With the heightened awareness of concussions, most coaches and trainers know that if a concussion is suspected, the player must be removed from the game or practice and undergo an evaluation. What follows is rest and recovery from the traumatic brain injury. This means limiting screen time, physical activity, and possibly school classes. Most people with concussions will recover in 3-7 days, however, repeated concussions could possibly have a lasting effect on the brain, resulting in a prolonged recovery, permanent injury, or even death.
In 2011, the Louisiana Youth Concussion Act was passed mandating that no player with a concussion can return to play without clearance by a medical professional trained in concussion. This will involve administering a full neurological exam and discussion of symptom resolution. In addition, your physician may also want to perform neurocognitive testing, such as IMPACT testing, to assess more subtle changes such as reaction time and visual-motor processing. These computer based exams can be given by your physician in the office both before and after an injury. Baseline exams can be given before the beginning of a season and your child's recovery can then be monitored with repeat testing after a concussion.
Once cleared, most athletic trainers and coaches have a stepwise return-to-play protocol that will gradually increase activity for your child to return to their sport.
Where can I go for concussion treatment?
Every concussion is unique which is why it is important to seek treatment for pediatric concussions with a physician specially trained in concussion management and treatment.
At Ochsner LSU Health Shreveport Neurosurgery, Dr. Christina Notarianni manages a pediatric concussion clinic that tailors active recovery programs to meet each child's goals, lifestyle, and symptoms.
Dr. Notarianni is the only pediatric neurosurgeon in the area and is trained in concussion management. If you suspect your child or athlete has sustained a concussion and would like to seek medical diagnosis and treatment, please schedule an appointment with the Ochsner LSU Health Shreveport Neurosurgery's pediatric concussion clinic by calling 318-626-0203.
Learn more about concussions
The key to concussion prevention is education. The Center for Disease Control (CDC) has been diligent in providing education to parents, coaches, and players on the signs and symptoms of concussion with their HeadsUp program. Likewise, organizations such as ThinkFirst, a national injury prevention foundation, provide support through local chapters to teach children the advantage of using your mind to protect your body. You can visit their websites for extensive information: cdc.gov/headsup and thinkfirstlouisiana.org.
References:
Cantu, R. C., Daneshvar, D. H., McKee, A., & Nowinski, C. J. The Epidemiology of Sport-Related Concussion. Clin Sports Med., 30 (1), 1-17. 2009. Available from URL: http://www.ncbi.nlm.nih.gov/pm... Cited Feb. 24, 2016.
University of Pittsburgh Neurological Surgery. Brain and Spine Injuries: Concussions [Online]. Jan. 2016. Available from URL: http:// www.neurosurgery.pitt.edu/cent... Cited Feb. 22, 2016